The Diary of a Roblox series series is perfect for fans of Diary of a Minecraft Zombie.
The series is based on the immensely popular online game platform, Roblox with 200+ million active users.

The stories are in diary format, fast-paced and full of adventure, crammed with laugh-out-loud situations. These books give young gamers a break from screen time and encourages them to love reading.
 Ari is just a regular avatar from Blockville who loves hanging out with his two best friends—Zeke, an obby and parkour pro, and Jez, the ultimate hacker and Queen of Tech.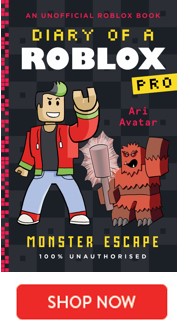 MONSTER ESCAPE
(DIARY OF A ROBLOX PRO: BOOK 1)
When Blockville School's most annoying avatar dares Ari to enter the abandoned warehouse at the edge of town, it might be Ari's only chance to prove his bravery. But
when a monster lurking in the shadows of the warehouse is disturbed, it traps Ari and his friends inside! Will they ever make it out alive? Or will they all be turned to stone?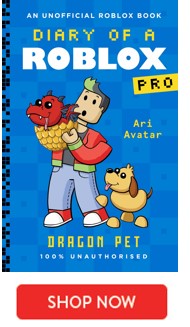 DRAGON PET
(DIARY OF A ROBLOX PRO: BOOK 2)
After Zeke's new egg hatches into a cool and rare sloth, Ari is determined to get a rare dream pet of his own. But when Ari's super-cool egg hatches into an even cooler baby dragon, no-one is prepared for what happens next. Can Ari and his friends stop the chaos before Blockville goes up in flames?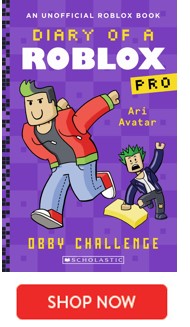 OBBY CHALLENGE
(DIARY OF A ROBLOX PRO: BOOK 3)
Ari can't believe his luck. Zeke's dad is taking them to see the epic new obby he has built for the army! But the school bully, Trip, is there too. When Trip climbs the obby and dares Ari to join him, Ari thinks it's just harmless fun. But the design of the obby means they have to finish it. Can Trip and Ari finish the obby? Or will it be game over for both of them?
COMING SOON!
Additional Content and Resources
Copyright © 2019 Scholastic Australia. All rights reserved.