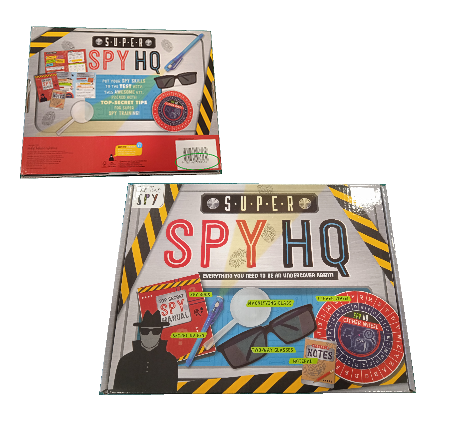 Do you own this product?
SUPER SPY HQ
ISBN 9 781760 266134
Please note that other ISBNs for the same product are not affected
Dates sold:
Between 15th May 2023 and 17th June 2023

Why the product is recalled: The product does not comply with the Consumer Goods (Products Containing Button/Coin Batteries) Information Standard 2020
The secret UV pen supplied in the product contains non-replaceable button batteries. The instructions do not have the mandatory warning information statements
Hazard: Consumers may not be aware that the product contains button batteries, that these are hazardous and are to be kept away from children whether new or used, that they can cause serious injuries if swallowed or placed inside any part of the body and that medical attention should be sought immediately if it is suspected a battery has been swallowed or placed inside any part of the body

Stop using the product immediately and return it to the place of purchase for a full refund

Send us an email or phone us if you are unable to return the product or have sold or gifted it to another person

Ask our staff to find out more about the recall.
Email: customer_service@scholastic.com.au
Phone: 02 4328 3555 during 8.30 am to 5.00 pm Monday to Friday


Set yourself a reminder to check at home
Take a photo of this notice
Set a reminder on your phone
Copyright © 2019 Scholastic Australia. All rights reserved.